Two Sacramento CAP Month Events ~ Toward a Trauma-Informed Northern California Summit ~ Apr. 18 | Kid's Day at the Capitol ~ Apr. 19
February 12, 2018
Toward a Trauma-Informed Northern California Summit ~ Apr. 18

On April 18th, 2018 The Child Abuse Prevention Center is having their first Toward a Trauma-Informed Northern California Summit to bring together leaders in family strengthening field, child advocacy, and victim services to launch and/or expand organizational action toward creating more trauma-informed support for families and children in Northern California.
 The Keynote Speaker of the Summit is Isaiah Pickens, PhD
Dr. Isaiah Pickens is a licensed clinical psychologist who specializes in consulting, counseling, and educational services for families, teens, and young adults. Dr. Pickens is currently Assistant Director of the Service Systems Program at the UCLA-Duke National Center for Child Traumatic Stress (NCCTS), the coordinating site of the National Child Traumatic Stress Network (NCTSN). 
Click here to find more on Dr. Isaiah Pickens.
When: April 18th 2018 9am-5pm
---
Kid's Day at the Capitol ~ Apr. 19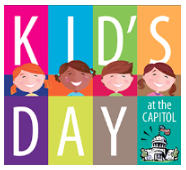 Thanks to LaFatima Jones, Analyst, Office of Child Abuse Prevention, for this info…
The Child Abuse Prevention Center and The California Department of Social Services' Office of Child Abuse Prevention invite you to participate in the "Kid's Day at the Capitol" event on Thursday, April 19, 2018.  This event will engage, recognize, entertain and support the families and children we mutually serve.  It will take place on the West Side of the California State Capitol in Sacramento and will run from 10 a.m. to 1:00 p.m.  We anticipate a fun-filled, educational event that demonstrates unity and commitment to preventing child abuse in California.
We hope you will choose to participate in this FREE event!
Info here: http://www.cdss.ca.gov/inforesources/OCAP/CAP-Month
For additional information, please email kidsdaycapitol2018@gmail.com or call the Office of Child Abuse Prevention at 916-651-6960.