Report from October 4, 2017 CSN Meeting ~ "Shaken Baby Syndrome"
October 6, 2017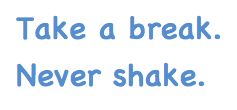 Many thanks to Scott Juceam who presented for our October 4th meeting on Shaken Baby Syndrome. Scott shared the deeply personal story of his daughter, Hannah Rose, who died after she was violently shaken by her babysitter. He and his wife founded the Hannah Rose Foundation to help prevent this form of child abuse. The meeting minutes will be posted on our Meetings page in the days to come.
Next meeting: Wednesday, November 1, 2017 ~ 3:30-5 pm. Gene Albaugh Community Room at the Madelyn Helling Library, 980 Helling Way in Nevada City.
Topic: Services offered for kids and families during the holidays.
If your organization offers holiday services to families – meals, toys, etc – we'd love to have you speak at our November 1st meeting. We'd like to do the meeting as a "Giant Network Moment" for holiday offerings. Next week's e-news will have all the info about how to sign up to share what your organization has to offer.