Panel on Child Screen Dependency ~ Apr. 18
April 10, 2017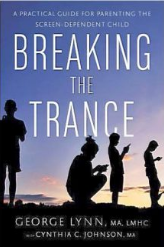 Thanks to The Union newspaper for this information.
Bellevue, Washington author and child psychology expert George Lynn will visit Nevada County April 18 to lead a public town hall on the issue of children's dependency on cellphones, tablets and computers.
Lynn is co-author of a new book, "Breaking the Trance: A Practical Guide for Parenting the Screen-Dependent Child."
The program will take place from 6 to 8 p.m. at the Nevada Theatre, 401 Broad St., Nevada City, and will be broadcast live on KVMR radio 89.5 FM. Admission is free.
Lynn will be joined on a panel by: Ron Charles, director of Yuba River Charter School; Lorrie Fredrickson, Grass Valley School District psychologist; Annie Keeling, parent educator; and Jennifer Sale, clinical social worker at the Western Sierra Medical Clinic.
Here's the full article: http://www.theunion.com/entertainment/5-panelists-to-address-child-screen-dependency/