September 21, 2017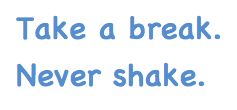 Our regular CSN meeting will be devoted to guest Scott Juceam, speaking on Shaken Baby Syndrome. Juceam's daughter, Hannah Rose, died after she was violently shaken by her babysitter. Scott and his wife founded the Hannah Rose Foundation to help prevent this form of child abuse.
SCOTT JUCEAM WILL ALSO DO TWO OTHER EVENTS. Details below. Here's the flyer for all events: Shaken Baby Syndrome-Scott Juceam Flyer
This information is important for parents of all ages, babysitters and other caregivers such as church and other nursery care providers, and teachers and other service providers who have contact with a wide range of people and can therefore help share it.
The CSN meeting is one of three free presentations by Juceam on October 4th and 5th co-sponsored by the Child Abuse Prevention Council of Nevada County, the Community Support Network of Nevada County, and Community Collaborative of Tahoe Truckee.
Three talks – with venues in Nevada City and Truckee.
Wednesday, October 4, 2017 – Nevada City (with evening talk live-streamed to Truckee)
3:30-5 pm – CSN Partner meeting – for all Community Support Network Partners and any other interested people. Gene Albaugh Community Room at Madelyn Helling Library, 980 Helling Way in Nevada City, CA 95959
7-8:30 pm – Early Childhood Educator workshop – for child care providers including babysitters, church and other nursery care providers, and any other interested people. Light dinner will be provided at both venues. Please RSVP for Truckee at www.communitycollaborative.org . No RSVP needed for Nevada City.
Childcare Providers: This training counts towards your Child Care Initiative Project (CCIP) hours. CCIP is funded by the California Department of Education, Early Education and Support Division. Call Lucia Stewart at (530) 272-8866 x225 or email lucias@sncs.org.
Thursday, October 5, 2017 – Truckee
9:30-11 am – Child Abuse Prevention Council meeting – at Tahoe Truckee Community Foundation, 11071 Donner Pass Road, Truckee (conference room)
Find the link to register for October 5th Truckee talk here:  www.communitycollaborative.org 
INFO
CONTACTS
About Shaken Baby Syndrome
Shaken Baby Syndrome – also known as abusive head trauma, shaken impact syndrome, inflicted head injury, or whiplash shake syndrome – is a serious brain injury resulting from forcefully shaking an infant or toddler or throwing an infant or toddler against an object. It may happen to children up to 5 years of age, but it is most common in babies younger than 1-year-old. Shaken baby syndrome is a form of child abuse. It is never okay to shake or throw a young child. It may not leave any obvious sign of injury, but it can cause permanent brain damage or death. Shaken Baby Syndrome destroys a child's brain cells and prevents his or her brain from getting enough oxygen.
Shaken Baby Syndrome often occurs when a baby won't stop crying and a parent or caregiver loses control of his or her emotions. Parents and caregivers can help prevent this problem by learning healthy ways to relieve stress and anger. It's also important to choose child care providers carefully. Parents can educate other parents and caregivers about the dangers of Shaken Baby Syndrome. Shaken Baby Syndrome is preventable. Help is available for parents and caregivers who are at risk of harming a child.
Sources and more information
---
CSN Partner Meeting time & location: The Community Support Network (CSN) meets on the first Wednesday of most months (July, August, and December on hiatus), 3:30 to 5:00 p.m. in the Gene Albaugh Community Room of the Madelyn Helling Library, 980 Helling Way, Nevada City. Optional open networking time is at 3:15 p.m. CSN Partners and members of the public are welcome to attend. For more information, contact CSN Coordinator, Susan Sanford, at 530-913-0270 (messages) or csnncorg@gmail.com.