Make Time for Yourself
January 16, 2018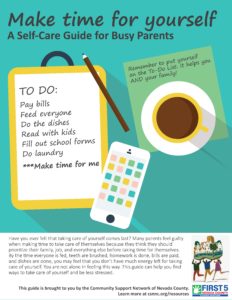 In April 2017, for Child Abuse Prevention Month, our colleagues at the Yolo County Children's Alliance produced two outstanding self-care documents:
a large trifold guide called "Make Time for Yourself – a self-care guide for busy parents" – in both English and Spanish
a card called "Make Time for Yourself – Start a Conversation"
CSN was able to work with Julie Beckner at YCCA to adapt the contents for Nevada County, and the documents were introduced at the January 3rd CSN Partner meeting. They will be available at future CSN meetings, and you can contact CSN Coordinator Susan Sanford at csnncorg@gmail.com if you'd like quantities of any of the documents for your organization.
The documents are also available as downloadable PDFs here: http://csnnc.org/resources/
Enjoy!