Children's Bill of Rights ~ Thank you for endorsing!
July 4, 2017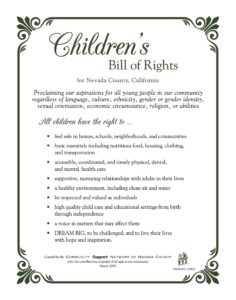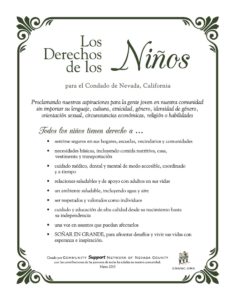 Many thanks to the 12 organizations who endorsed the Children's Bill of Rights during our March-April "Invitation to Endorse" initiative. Endorsements from organizations are welcome any time. See below for who has endorsed.
Follow this link to an online endorsement form. The text of the endorsement form, and the questions on it, are in this document: Text of CBOR Endorsement Form for Organizations. If you have any questions about endorsing, contact CSN Coordinator Susan Sanford at csnncorg@gmail.com
Here are links to the CBORs in English and Spanish.
Thanks to ALL these organizations that have endorsed!
Adult and Family Services Commission of Nevada County, Department of Social Services
Child Advocates of Nevada County
Child Care Coordinating Council
Coalition for a Drug Free Nevada County
Community Recovery Resources
Community Support Network of Nevada County
District Attorney's Office, Nevada County
Domestic Violence and Sexual Assault Coalition (DVSAC)
First 5 Nevada County Children and Families First Commission
FREED Center for Independent Living
Helping Hands Nurturing Center
NEO – New Events & Opportunities
Nevada County Board of Education
Nevada County Board of Supervisors
Nevada County Diaper Project
Nevada County Veterans Services Office
Parents' Resource Guide
PARTNERS Family Resource Centers
Sierra Family Medical Clinic
Sierra Nevada Children's Services
The Friendship Club
United Way of Nevada County
Welcome Home Vets
Welz Family Children's Foundation
Women of Worth